(Oslo, Norway – May 16, 2022) Airthings (AIRX), the global leader in air quality monitoring and energy-saving solutions, today releases its "Breathe Better Report: Airthings Sustainability Journey 2021".
The report includes Communication on Progress (COP) for the period of March 2021 – March 2022 as part of the UN Global Compact (UNGC) and has been prepared in accordance with the principles of the UNGC and in line with the Sustainable Development Goals (SDGs).
Airthings uses the SDGs as a framework for its ESG actions and has prioritized six SDGs where the company can contribute directly and indirectly: 3 – Health and wellbeing, 4 – quality education, 8 – decent work and economic growth, 11 – sustainable cities and communities, 12 – responsible consumption and production, and 13 – climate action.
The 2021 report lists fifteen sustainability highlights. Among these, the company reports that they educated over 500 000 people about air quality last year, launched a child-focused education program called Air for Kids, completed product lifecycle assessments, and quantified scope one, two, and three emissions for the company.
"As leaders in indoor air quality monitoring and focused on the health and wellbeing of people, sustainability is close to our hearts and fundamental to our core values. We remain fully committed to the UN Sustainable Development Goals (SDGs), and strongly believe that our solutions have the potential to improve many of the environmental and societal challenges we face. At Airthings we believe a sustainable business is a good business," says CEO Øyvind Birkenes.
In February 2022, Airthings was awarded a Silver Sustainability Rating from EcoVadis, being ranked in the top 25% of all companies evaluated and higher than 78% of its peers. The company has also been dedicated to enabling real estate owners and facility managers to reduce their energy usage. In February, Airthings reported that they had saved their customers more CO2e emissions in 2021 than the company themselves had emitted in operations.
Please also see www.airthings.com/sustainability.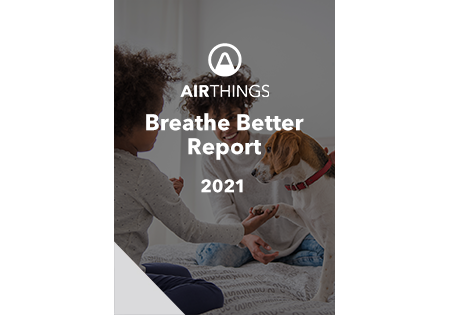 About Airthings
Airthings is a global technology company and producer of award-winning radon and indoor air quality monitors for homeowners, businesses, and professionals. Founded in 2008, Airthings is on a mission to ensure that people around the world recognize the impact of indoor air quality and take control of their health through simple, affordable, and accurate technology solutions while optimizing energy consumption in buildings. Airthings' products have made radon detection and indoor air quality monitoring easy to deploy, accurate, and user friendly, and have received several accolades including the TIME's Best Inventions of 2019 award and CES Innovation Award Honors in 2019 and 2021. Headquartered in the heart of Oslo, Norway, and with offices in the US and Sweden the company has over 140 employees from more than 30 nationalities—and counting. To see the full range of Airthings indoor air quality monitors and radon detectors or to learn more about the importance of continuous air quality monitoring, please visit airthings.com