Airthings supports four young and aspiring chess talents as they try to make their way through the ultra-competitive world of elite chess.
Who was selected?
We selected our ambassadors based on their enthusiasm and love for chess, their affinity with the concept of better air quality as an important factor in performance and well-being, and their desire for support in furthering their already promising chess careers.
Background
Typically in chess, the ability and performance of players can increase at a sharper rate when they are younger. Often little changes or improvements in their game can have a seemingly greater effect on their rating and results than improvements after reaching a rating of 2700, which is unofficially considered a Super Grandmaster. This 2700 barrier is where even the best players in the world 'plateau', considering that the ceiling for possible chess ratings for humans is in the high 2800s. Take a look at world chess champion Magnus Carlsen's progress beginning with his meteoric climb in 2001, he increases hundreds of points a year and when he reaches the age of 18 his rating grows less sharply.
Magnus Carlsen's rating (2001-2020).
That's not to say he isn't improving from that time onwards, but at that age, he was already in the top 10 players in the world. So, to understand if the changes to your study or training regime are helping your chess game it's often easier to tell at a younger age. As the official air quality partner of the Meltwater Champions Chess Tour and named sponsor of the annual Airthings Masters, we sponsor chess tournaments and players as a way to highlight the value proposition of our products which has been backed by scientific research1. That is; when you breathe better, you play better. We are excited to see if that finding is amplified to a greater degree for players who are still making great leaps in their ability and haven't yet reached their peak. So, as part of our continued enthusiasm and support of chess and our focus on an equal opportunity, we not only supply air quality monitors to global names like Magnus Carlsen, Rameshbabu Praggnanandhaa, and Jan-Krzysztof Duda but now we do the same with younger and less-known up and coming talents too.

Not every player will be Magnus Carlsen or Alireza Firouzja, but it's not unheard of for a younger player to increase their rating by 100 points in a year where there is an explanation such as experience, expert coaching, improved study and preparation, better instincts, increased stamina, or tactical sharpness. Not only are we supplying players trying to make these climbs to the heights of chess with our most advanced air quality tech but we're also supporting them financially as air quality is only one piece of the grander chess puzzle. This sponsorship further highlights that being mindful of your indoor air quality and environment and having the data to be actionable about it can make a huge difference in cognitive performance and overall health.
In the past few months, our youthambassadors took their View Plus' and Airthings hoodies all over the world to tournaments from tournaments ranging from Copenhagen to Chennai!
Our Ambassadors


Zala Urh is a Women's International Master from Slovenia.

She studies computer science and is one of the best chess players in Slovenia, where she most recently won the national women's club championships with her team. She was also a member of the Slovenian delegation which competed at the Chess Olympiad in Chennai.

Zala is a diligent student of the game and has been playing semi-professionally since she was a teenager. Airthings will be supporting some of her journey to the world junior u20 championships in Sardinia, Italy.
Zala pictured with her View Plus in Chennai, India (2022).



Conor O'Donnell is a FIDE Master from Ireland.

One of Ireland's best chess players, Conor is part of an enthusiastic group of young Irish players all attempting to be Ireland's first homegrown Grandmaster, an official FIDE administered title reserved only for the best in chess. A keen student of the game, Conor employs fitness as part of his strategy to be the best chess player he can be, running marathons, jogging before and after games, and using the gym to improve his overall stamina. He was very interested to delve into the world of air quality and discover what edge he can get over his opponents by optimizing his indoor environment when he plays.

Airthings is supporting Conor's participation in the Rilton cup in Stockholm in the new year.



Conor pictured with good air quality in his training room. Dublin, Ireland.

Maud Rødsmoen is a Women's FIDE Master from Norway.

A software engineer by day and a chess star and commentator by night; Maud is a presenter of the Meltwater Champions Chess Tour for Norway's TV2. She was also a member of the Norwegian women's team which participated at the Chess Olympiad in Chennai, India. She obtained her chess master title at only 17. When she began university she put chess on the back burner while she completed a degree in industrial mathematics. Now, her goals are to attain the WIM title and become the Norwegian women's champion. Utilizing her professional background and interests in data analysis Maud is especially a fan of the Airthings dashboard as an analytics tool for her air quality.

Airthings is supporting Maud as she competes in the Oslo city championships later this month.


Maud commentating on the Meltwater Champions Chess Tour for TV2 (2021).


Eric Eedle is an English chess player and university student with special interests and research projects in air pollution.

Enthusiasm fits nicely as a descriptor for Eric, and not just because the word starts with E. He loves chess and has been improving greatly over the last few years especially. As a geography student with growing expertise in air pollution, he knows better than most that indoor air quality usually worsens in the winter as people typically keep their windows and doors shut thus trapping many of the everyday pollutants which are present in our homes including VOC's, particulate matter, and excess CO2. Eric has not only been using his View Plus to improve his playing environment but has also been using the device for further research into air pollution in his local area.

Looking forward he's competing in the Hastings International Chess Congress which begins on December 28th and where Airthings will be supporting some of his expenses.
Eric Eedle at home with his excellent air quality readings.
To learn more about Airthings and our partnership with chess visit our chess page.

To learn more about View Plus, our most advanced air quality tech used by chess Grandmasters and our youth chess ambassadors visit airthings.com/view-plus or click the View Plus.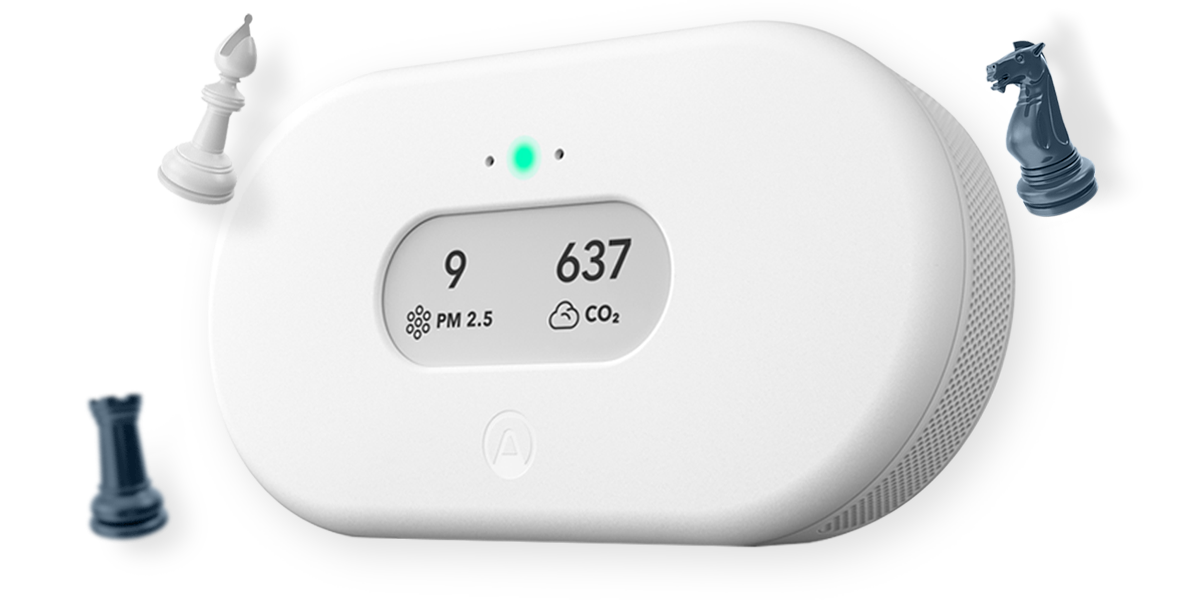 1. https://www.iza.org/publications/dp/12632/indoor-air-quality-and-cognitive-performance