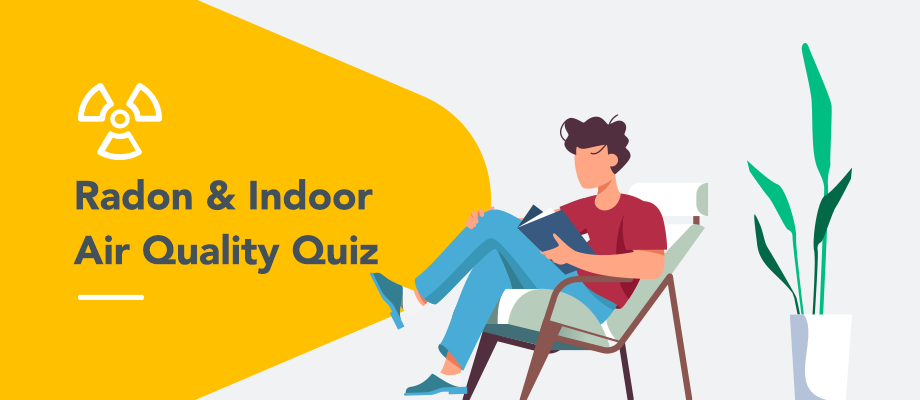 We take up to 30,000 breaths a day. That's a lot of air we put in and out of our body every 24 hours. But how much do you know about what you're breathing in? Do you know what's safe and what could be dangerous? Take our personalized quiz to find out! ⬇️
As most contaminants are invisible and odorless, it can be tough to know if the air you are breathing in is healthy. An indoor air quality monitor can provide you with the data you need, but first let's go through the key contaminants that could collect in the average household.
Which contaminants you should monitor in your home:
Radon is an invisible gas formed in the Earth's crust. It surrounds every one of us as part of the air we breathe. Approximately 21,000 people in the US and 20,000 in the EU die from radon-related lung cancer every year1.
Carbon Dioxide or CO2 is a greenhouse gas that is natural and harmless in small quantities, but as levels rise it can affect productivity and sleep. Most commonly produced indoors by the air we exhale, CO2 levels concentrate indoors with less ventilation.
Relative humidity measures the amount of water in the air in relation to the maximum amount of water vapor (moisture). The higher the temperature, the more water vapor the air can hold. Too much humidity can cause dampness and mold, too little means the air becomes dry and uncomfortable.
Airborne chemicals or volatile Organic Compounds (VOCs) are a combination of gases and odors emitted from many different toxins and chemicals found in everyday products. They can cause serious health effects in both the short and long term.
Mold is a microscopic fungus that helps nature decompose dead organic material. Mold is important to our ecosystems as it helps break down organic material, but mold in your home can lead to property damage and health issues.
Of course, each home is different. Take our fun quiz below to find out how you can improve the air in your home today! ⬇️