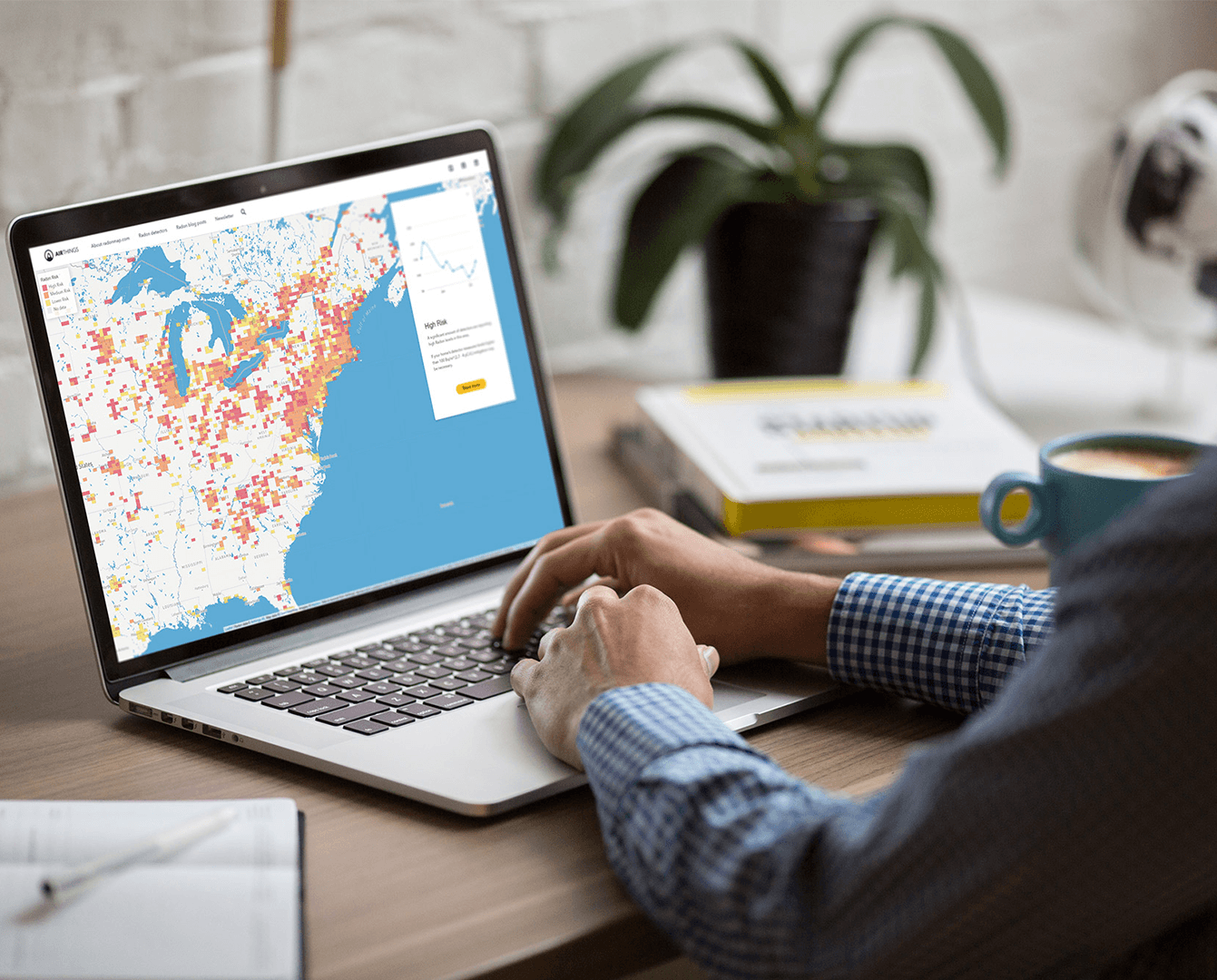 Radonmap.com gathers thousands of radon sensors from around the world, sourced from live data, broken down by location and anonymized. See yearly, monthly and approximate risk calculations in this easy-to-use,
interactive map.
Airthings is on a mission to ensure people around the world take control of their air quality through simple, sustainable and accessible technology solutions; making radon and air quality solutions an essential and universal element for every building or home. That is why radonmap.com was created. The free tool can be populated with a huge amount of sensors from around the world, available to everyone.

Radon is undetectable by human senses. It is an invisible, odorless, colorless gas that can seep into your home through the ground. Unfortunately, it is estimated that about 10% of all lung cancers worldwide are related to radon exposure1.

Use radonmap.com as a guideline, a way in which to see if high levels are common in your area. Seasonality, ventilation, structural changes and location all make a difference to radon levels, which may result in you having different readings to your neighbours. The best way to know the air you are breathing is clean and safe is by monitoring long term, with a detector that will track changes so you don't have to think about it!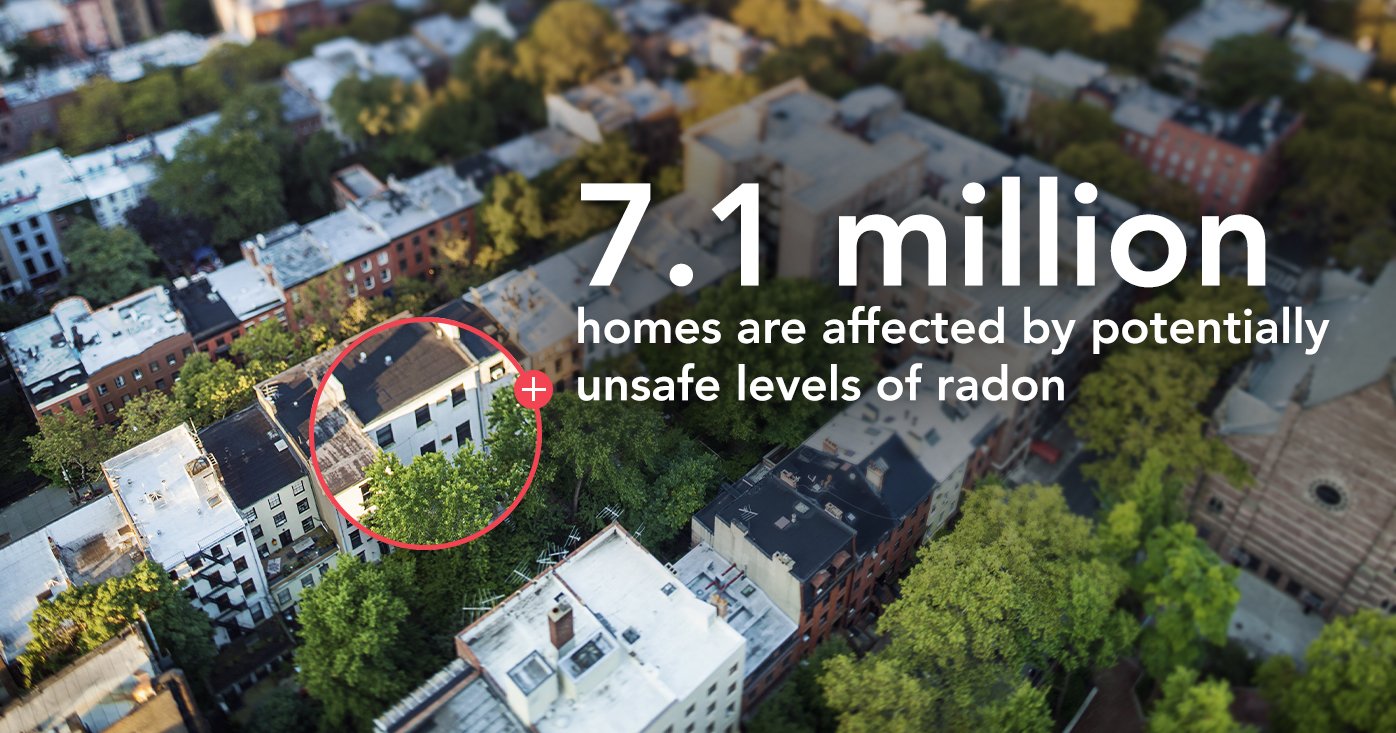 The common radon myth
Not all countries, states or cities are known to have high radon areas, but that does not mean that individual homes are automatically free of any radon risk. Remember, high radon levels have been found in homes situated in areas with generally low radon levels. You can use radonmap.com to help see radon readings from your local area.
See radon levels in your area with radonmap.com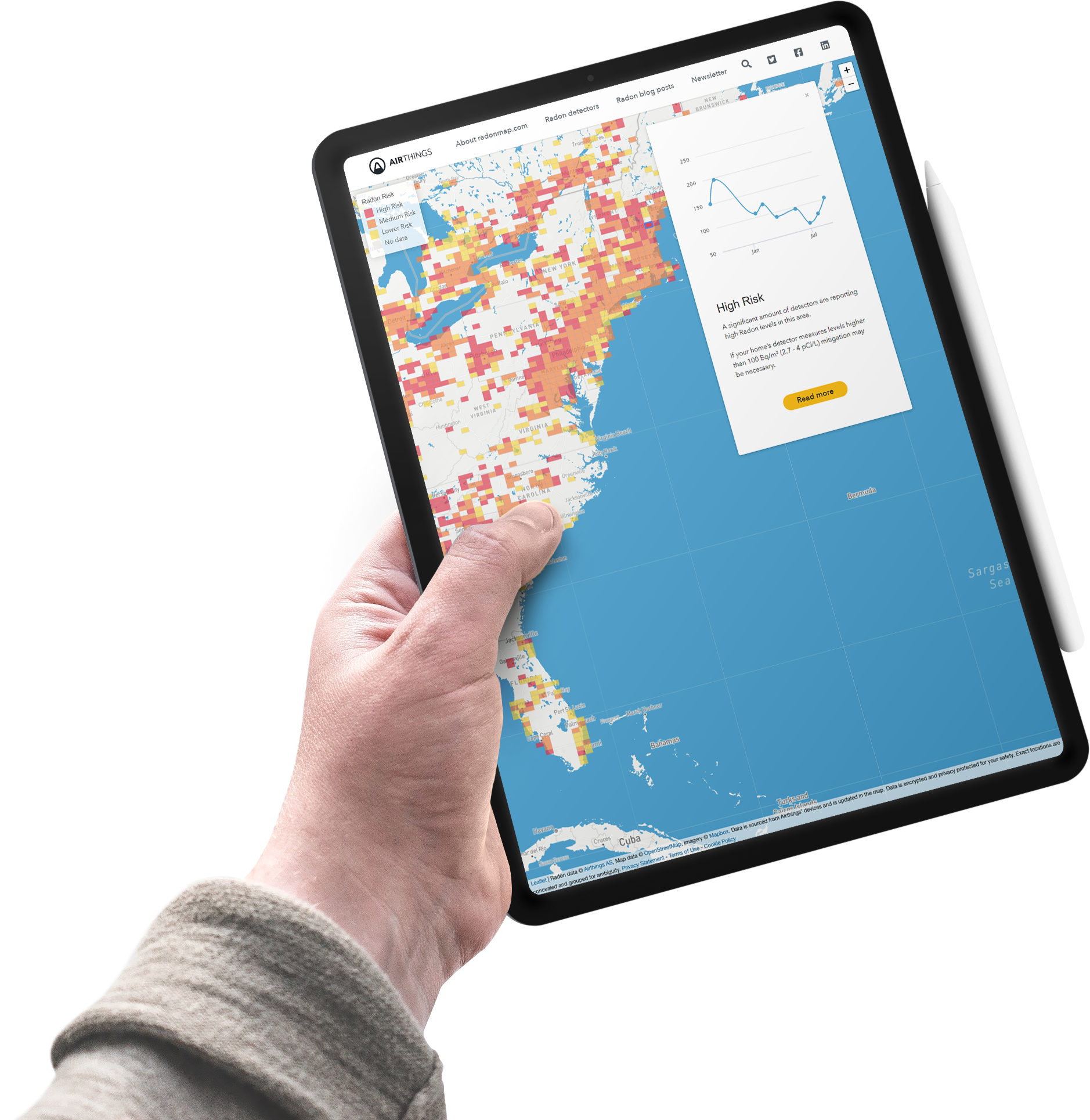 Select a square of your approximate location on randonmap.com. This will pull up relevant information in your area including a visual indicator determining radon risk in that area and a radon graph so you can easily see any recent changes in the levels.
Use the area search at radonmap.com
Navigate to the top right hand corner of radonmap.com and click the search bar. Here you can enter your zipcode, country, state or province. Remember, it's a free tool that pulls data from Airthings data volunteers, so if there is no one in that area who would like to contribute, there may not be any results just yet.
Compare radon levels over time
Radonmap.com is continuously updated, so you can check back later to see if radon levels have increased or decreased.
What to do next
Whether you found high or low radon levels via the map, it is important to remember that there are numerous factors including ventilation, structural changes which impact radon levels. The best way to know if you have safe radon levels is to use a radon detector in your home. Airthings radon detectors will track changes so you don't have to think about it.