The Airthings Masters took place from December 26, 2020 - January 3, 2021, featuring a line-up of chess grandmasters from around the world.
At Airthings, we understand the impact that poor indoor air quality can have on health, wellbeing, and cognitive abilities. Chess requires intense concentration and focus, therefore, for the chess grandmasters to perform at the best of their abilities, it's important that they're breathing in healthy air.
We armed five chess grandmasters with a Wave Plus and a Hub to monitor their indoor air quality during the Airthings Masters - here's what we found.
High carbon dioxide levels kill creativity
CO2 is a greenhouse gas that is harmless in small quantities, and most commonly produced indoors by the air we exhale. However, as CO2 levels rise there can be a negative effect on productivity and sleep.
We learned that several of the grandmasters were breathing in high concentrations of CO2 during their games. During preliminary rounds 9 - 11, grandmaster Anish Giri's CO2 levels peaked at 1,373 ppm and grandmaster Pentala Harikrishna's CO2 levels peaked at 1,480 ppm. These are both well above the ideal CO2 indoor levels of under 1000 ppm.
High concentrations of CO2 can induce restlessness, drowsiness, increased heart rate and blood pressure, headaches, and sweating. In addition to that, grandmaster Anish Giri has discovered another side effect - lack of creativity when trying to compose a tweet!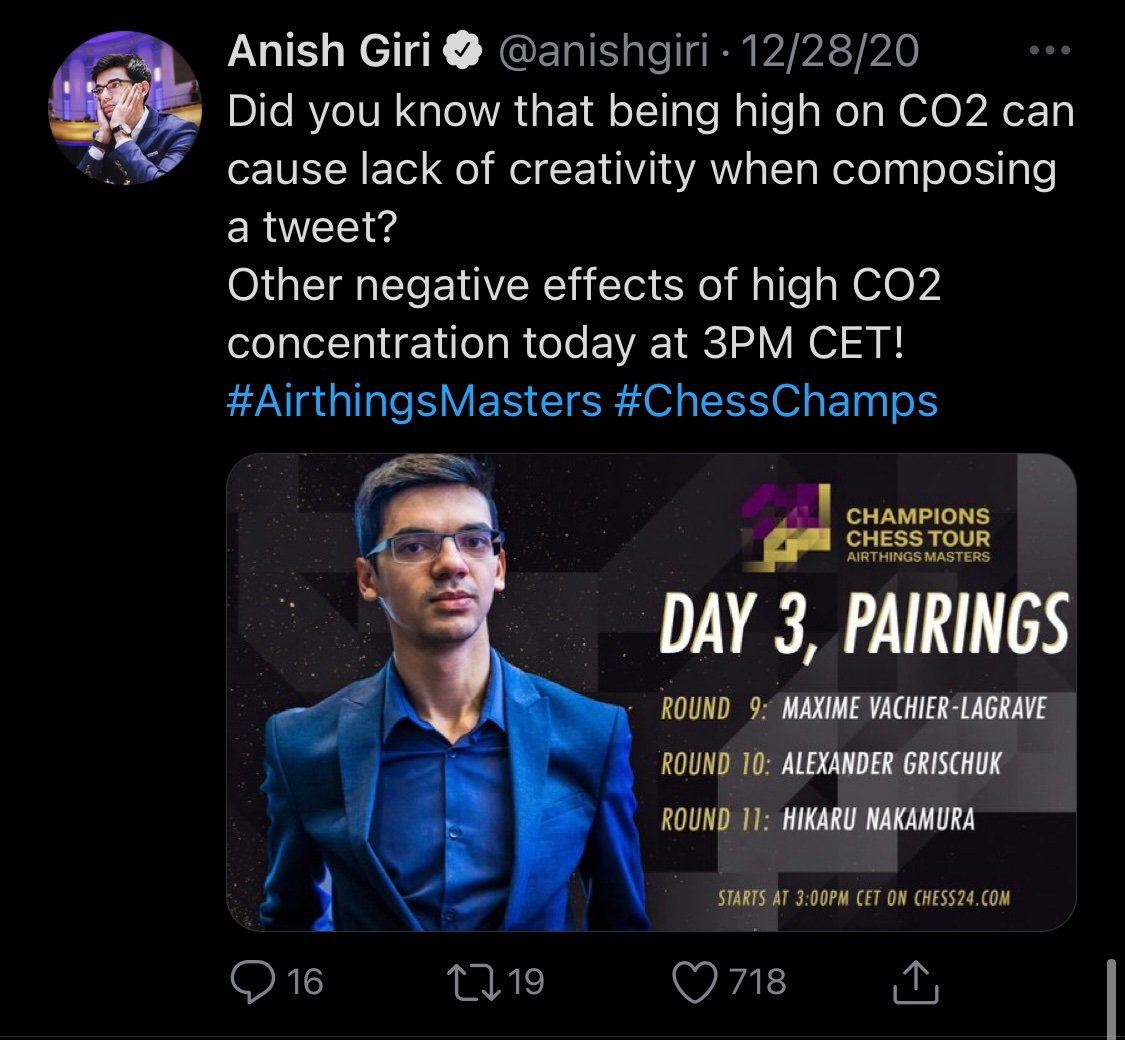 Radon recommendations
Radon is an invisible, and dangerous gas that surrounds all of us as we breathe. Being exposed to high levels of radon over long periods of time can cause lung cancer and even death, making it important to continuously monitor radon levels.
Airthings recommends radon levels to be under 100 Bq/m3 , making grandmaster Pentala Harikrishna's peak radon level of 189 Bq/m3 stand out. Fortunately, this peak in radon did not last long, as extended periods of exposure to that level of radon is considered dangerous. On average, grandmaster Wesley So had the highest levels of radon at 66 Bq/m3, with radon levels peaking at 96 Bq/m3.
Radon levels fluctuate over time and are influenced by many elements in the environment, therefore, it's important to continuously monitor for high levels.
Healthy humidity levels
During both the semi-finals and 3rd place rounds, grandmaster Maxime Vachier-Lagrave's humidity dropped below healthy levels. Healthy humidity levels are between 30 - 60%. Vachier-Lagrave's humidity dropped to 26%, and measurable changes in one's ability to concentrate or perform tasks can be caused by even small changes in the relative humidity. It's important to be mindful of humidity levels, especially in the winter when humidity often drops due to lower temperatures and indoor heating.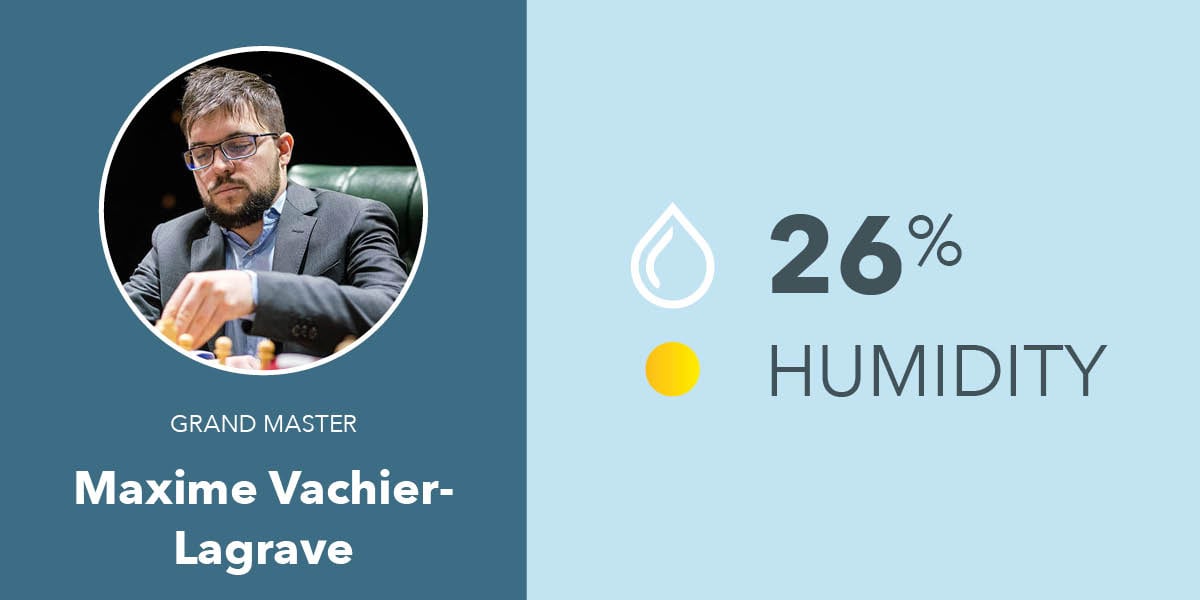 Increased temperatures decrease cognitive abilities
Due to the consistently high room temperatures, there was audience speculation that grandmaster Magnus Carlsen was playing from somewhere other than his cold home country of Norway. Magnus' average air temperature sat at 25°C, which is above the World Health Organization's ideal indoor temperature of 18 - 24°C1.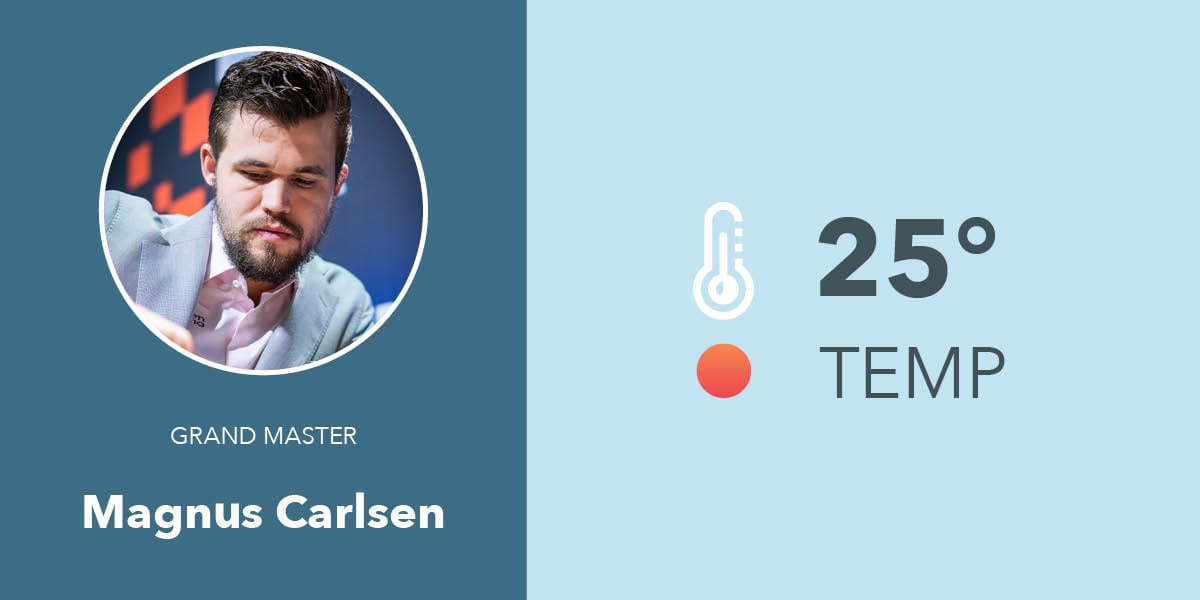 Measurable changes in your ability to concentrate or perform tasks can be caused by even small changes in temperature. In fact, studies show that increased temperatures diminish cognitive abilities2. Perhaps Norway's cold climate is Carlsen's secret to success, and the unusually warm temperature is why he didn't proceed to the semi-finals!
Air quality's impact on chess grandmasters
During the week-long tournament, chess grandmaster Maxime Vachier-Lagrave had the healthiest air on average. Of the five grandmasters, Vachier-Lagrave also made it the farthest in the Airthings Masters, finishing fourth place in the tournament!
On the other hand, grandmaster Pentala Harikrishna had the unhealthiest air on average. During the preliminary rounds, both his temperature and CO2 levels were in the red, indicating poor air quality.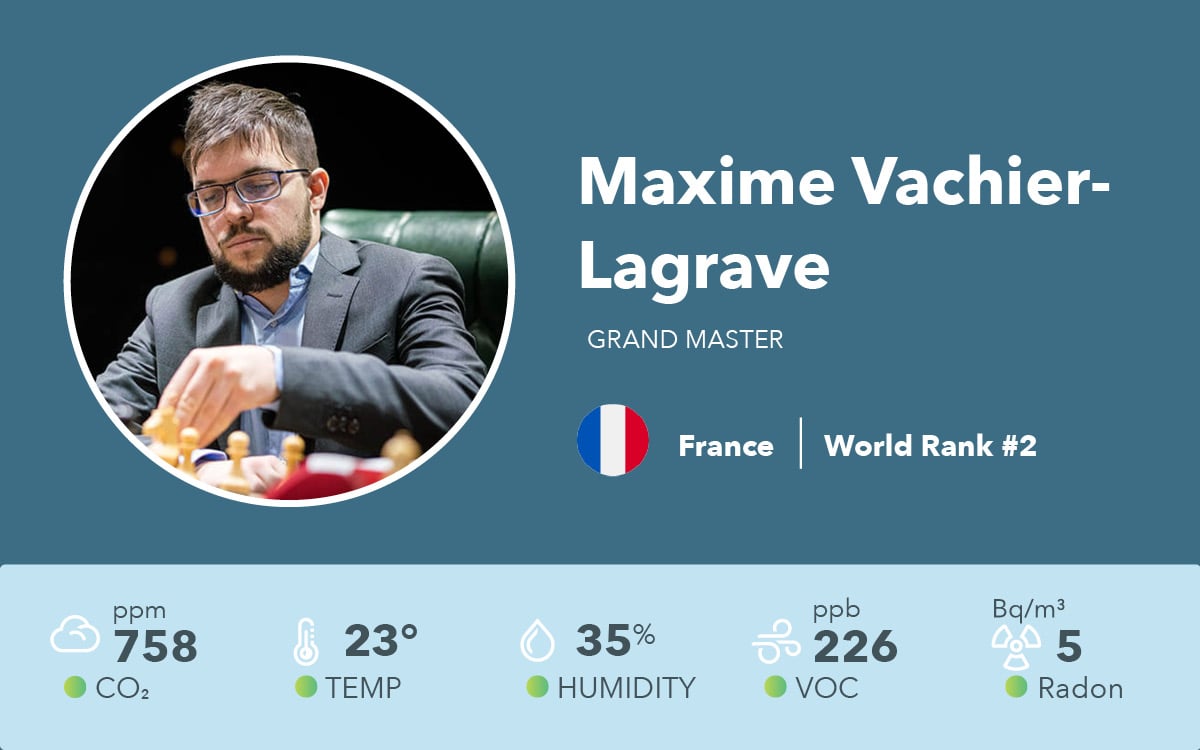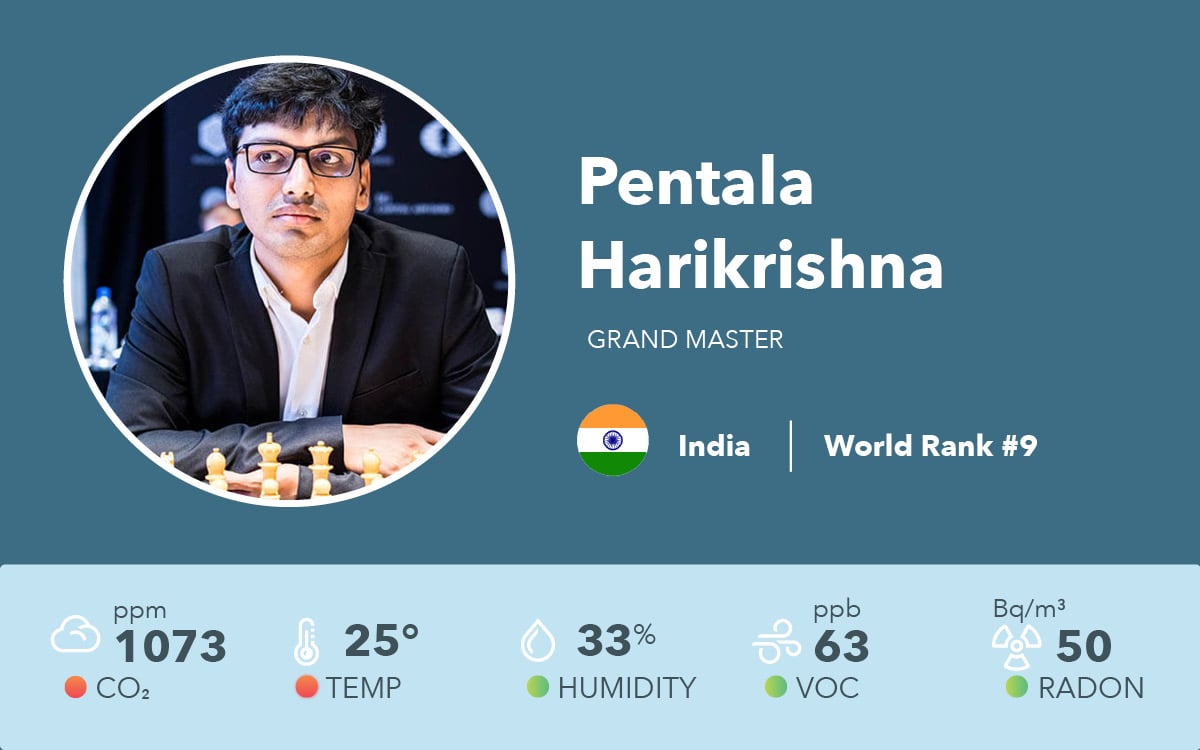 The next tournament in the Champions Chess Tour starts this Saturday, February 6th. What role do you think air quality will play in our ambassadors' air this tournament? Follow along on airthings.com/chess and stay tuned for our air quality insights!
Sources
1. https://www.ovoenergy.com/guides/energy-guides/average-room-temperature.html#:~:text=18%2D21%C2%B0C%20%E2%80%93%20comfortable,be%20unsafe%20for%20heart%20conditions
2. https://www.cambridgebrainsciences.com/more/articles/as-temperature-goes-up-cognitive-performance-goes-down#:~:text=A%20hot%20environment%20has%20been,impaired%20more%20than%20simple%20tasks.