Airthings are partners of the Meltwater Champions Chess Tour, the most viewed chess event in history. Millions of new and old chess fans from around the world tuned in to watch a tournament series that began all the way back in 2020. The biggest names in the game were for the first time playing for huge cash and crypto prizes from the comfort of their homes, and an enthusiastic new generation of chess fanatics were following with unparalleled insights from the comfort of theirs. These insights included multiple expert commentary teams to cater to the different skill levels of viewers and for the first time in chess history live air quality data continually streamed from the homes of the top players in the world.
At this week's tour finals, key players like Jan-Krzysztof Duda, Wesley So, Hikaru Nakamura, and Magnus Carlsen compete for the tour title and the largest cash prize in online chess history. To mark the end of this year's tour we're looking back at all the whacky, wonderful, and exhilarating moments this year brought us. Whether through laughter or excitement, controlling the air you breathe isn't as easy a task as you think when following the Champions Chess Tour. Here is our list of the top 10 moments that took our breath away.
This week the Meltwater Champions Chess Tour reaches its exciting conclusion with the tour finals held in Oslo. To commemorate the world's most viewed chess event, each day we're going to relive one of our favorite moments from this year's tour.


10. Heating up in the FTX Crypto cup final
While Airthings devices can measure the temperature of the playing environments of the top players, you'll know it's heating up anyway. It was clear things had boiled over on the board of the bitcoin backed FTX Crypto Cup final between Magnus Carlsen and Wesley So. Magnus was up against the ropes and faced the prospect of a must-win game as black. He clinically defended a pawn advantage and after he quenched So's final threat with f5 he was back in the final. Magnus roared into the next game which proved to be the match-defining result as he went on to win the title along with $60,000 and 0.6 Bitcoin less than 30 minutes from when he was on the brink of defeat.


9. Anish Giri on Twitter
While Anish Giri put on an impressive display in winning the Magnus Carlsen Invitational, we found his Twitter content simply irresistible. He is a member of the elite 2800 club, but possibly even more impressive is his banter Elo sits 100 points higher than that. It can be tough thinking of new ways to showcase your favourite toy, in this case, an Airthings View Plus, but the ever-resourceful Grandmaster always found a way.


8. Aksel Lund Svindal battles Magnus Carlsen
If you ask Norwegians for a list of the country's most famous sportspeople, Olympic gold medallist skier Aksel Lund Svindal and world chess champion Magnus are guaranteed to feature. During the Airthings Masters we got the two legends together to play a chess game. Aksel is also the chairman of the Airthings board of directors and was happy to also give tour commentator David Howell a skiing refresher course after the game!
Check out the full video here: https://youtu.be/-C6jr9A-DII


7. Gukesh D and Arjun Erigaisi light up the Goldmoney Asian Rapid
Who doesn't love an underdog story? The Goldmoney Asian Rapid saw a strong Indian contingent challenge for the title including two prodigies aged just fifteen and seventeen. The Air for Kids sponsored Gelfand challenge qualifier Gukesh D was one result from making the ¼ final beating several super Grandmasters in the prelims. Arjun Erigaisi made one further step into the knockouts against all odds and pushed the eventual tournament winner Levon Aronian to the edge. Can you spot the winning idea for white that the young Indian found to take the lead in his ¼ final match against Aronian?

6. Airthings ENDS the youngest GM controversy
Drama drama drama - When the talented young American Abhimanyu Mishra officially became the youngest Grandmaster in history at 12 years old 4 months and 25 days, not everyone viewed the achievement as a total win for chess. World Chess Championship challenger Ian Nepomniatchi among others took to Twitter to voice their wishes for a review by FIDE of the prerequisite and safeguards required to keep the GM title as a coveted one. We decided this was neither the time nor the place for the drama so we did we we do best, helped everyone clear the air.


5. Wesley So Cute but So Deadly – 3 tour wins
While So's tournament results suggest he's a real bully, with 3 tour event wins and countless ruthless demolitions of other elite players, he's also lauded as one of the nicest people around. We got to see his sweeter side in his beautiful Minnesota garden with him proudly showcasing his View Plus that he uses during the tour. However, our most beloved Wesley moment was during his house tour when he showcased his cats, what more can we say? Aw. Check out So's home tour here: https://youtu.be/EzTEZuHtHuE


4. Magnus Carlsen Launches the View Plus
There are a lot of great things about living in Oslo, Norway. One of which is Magnus Carlsen could be right around the corner on any given day. In March 2021, Magnus entered Airthings HQ in the Oslo office to unveil our new flagship air quality monitor, the View Plus. We got to hear his thoughts on how air quality affects his performance and he was kind enough to quickly demolish any employees plucky enough to face him over the board, including our CTO! Check out the View Plus launch here: https://youtu.be/pohnwwmMrE8



3. Summer is here
The Goldmoney Asian rapid took place at the start of the summer. Yet we didn't need a calendar to tell us the warm weather had arrived - we just checked the players' Airthings devices. Airthings sensor data is always anonymised, however our chess ambassadors give us special access to their data so that we can showcase how their breathing better leads to their playing better. Heat isn't exactly the competition millions of fans tune in for, the Indian star Vidit Gujrathi boasted the highest temperature with 27.7 degrees Celsius in his playing area. We took to Twitter to highlight our insights and in so doing granted Vidit the very unofficial and disputed title of "hottest chess player." Whatever their heat preference, the players were all mindful to keep their CO2 as low as possible so their minds would stay as sharp as possible.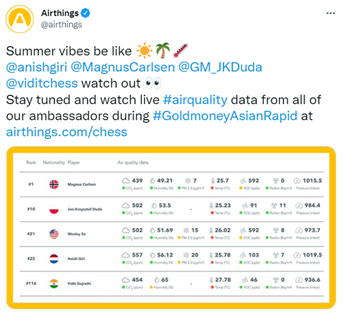 2. Tears of Joy - Rajabov wins the Airthings Masters
No, he's not struggling to breathe, those are tears of Joy on Teimour Rajabov's face! Only a few years ago Teimour Rajabov was close to retiring from chess. That coupled with a bumpy 2020 season which saw him miss out on the world championship candidates' event he qualified for left the seasoned Azebeijani hungry to prove his pedigree. Against the odds of mainstream pundits, he beat Levon Aronian in a star-studded final of our very own tournament, The Airthings Masters. His victory was celebrated passionately in Azerbaijan where he even received a personal congratulations from their president.




1. Where in the World is Magnus Carlsen?
We were delighted to find that Magnus Carlsen's breathing is a point of great analysis already with Chess24.5 applying wonderfully descriptive titles such as "Magnus Carlsen Reacts to His Worst Game While He is Heavily Breathing" that are a point of amusement for chess fans.
During the Airthings Masters which was held during Winter in Norway, we were shocked to see Magnus playing at temperatures of more than 27 Celsius, people quickly began to wonder where on earth Magnus could be. We took Chess24.5's Magnus obsession one step further as we attempted to figure out exactly where he was playing the Airthings Master's from. So, where was Magnus Carlsen? Just off the east coast of Africa in the sunny Seychelles.



Did you enjoy these breath-taking moments? Did you have different favorite moments of your own? Tune in for more entertainment during the finals of the Meltwater Champions Chess Tour which conclude on October 4th.
Check out your favorite players live indoor air quality at airthings.com/chess
Follow @airthings on Twitter for up to date chess and IAQ news.